News : The first Anti pacman community!
Posted by snoozy
on 2008/1/29 10:27:55
(
3616 reads
)
The first Anti Pacman community!

Yesterday, I published a new game like I am doing almost on a daily basis. This one is not exactly like the other ones. In this post I am telling why this game is different.

First of all, I would like to introduce you to the game. It is called ANTI PACMAN. This game is contrary to Pacman. You control the ghosts and your goal is to catch Pacman before he eats all the dots. Use the arrow keys to control the active ghost and 1-2-3-4 keys to switch between ghosts. Unlike the original Pacman game, here a ghost dies forever if it's eaten by Pacman, so be sure to take care of your ghosts while they are blue.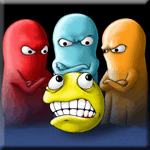 If you want to catch the Pacman trying to be the bad ghosts, play Anti Pacman here (http://www.playzgame.com/online-flash-games/AntiPacman.php)

So why this free online game isn't like the other games that I published until now on ? There are several reasons to this:
- The first one: this game is part of a network called "MochiAds". MochiAds provides to the game developers an easy way to monetize their hard work designing their flash games. And as I know how it is difficult to make a good playable game, I took the commitment to do all my best to find a solution to publish games on playZgame.com with a reward for the game developers. Anti Pacman is one of the first 500 new games that we are going to publish on playZgame.com with such rewarding system. The big advantage for me, the rewarding system is managed by a third party without any business link with us which guarantee to all our independency.

- The second difference: Anti Pacman has been published yesterday evening at about 6:30 pm and few minutes after, the first players started to play the game trying to be the bad ghost! Until then there is nothing special in this game. Generally, when a new published game is downloaded between ten and hundred times in the first twenty four hours, it's a pretty good score! But one or two hours later, I saw the number of players becoming more and more important. Are you thinking to a buzz? Ohh no. Come one! At this time we were more than 1,000 curious players. And just before to put me to bed, I was so exiting by the pleasure and the interest created to you all, that I confess to having checked again the number of times Anti Pacman has been downloaded. It was more than 6,000! (It's clearly my first time) But you were more and more numerous to come and play to this game. Now at the moment, I am writing this post, the game has been downloaded more than 20,000 times (only after 15 hours the game became live on playZgame.com). So as you understand, this very funny game becomes the first one played game on playZgame.com far ahead Antbuster (above 11,000 hits at this time and now the second most played game), Drag Racer V3, Cursor*10, Bejeweled, Dirt Bike 2, Filler and Super Mario!

- The third one: As you can see on the logo of playZgame.com, Pacman is our mascot! So it's like a wink and for sure a sentimental feeling...

Now you know why I am creating today the first Anti Pacman community!

To become member of our community, it's very simple. Register now! here on playZgame.com and start to chat on our forum dedicated to Anti Pacman (for sure!) and enjoy playing some good games.


Featured links:
If you want to see the most played games from the whole game catalog sorted by number of hits, here you will discovered in real time some very original games:
http://www.playzgame.com/online-flash-games/all-games-by-hit.php

To pay tribut to the owner of this game, please visit their site:
http://www.sugar-free-games.com

Want to help us covering our costs and prolong your fun:
(use paypal for a donation choosing the amount you want to donate):
https://www.paypal.com